A Turkish proverb says two watermelons will not fit in a chair but that is the exact opposite for Virgil Abloh! Former Kanye West right hand, civil engineer, DJ and Louis Vuitton Men's Artistic Director… has even took over the world famous Musée du Louvre! 
To commemorate Leonardo Da Vinci in his 500th death anniversary, a capsule collection was released in the past months combining some of the artist's famous paintings with Off-White aesthetics. According to Abloh himself, the collection blended first quality art with high fashion. It is not shocking that Virgil Abloh did such an unusual and one of a kind collaboration as he surprised many of us in the past by even taking over Louis Vuitton from Kim Jones without having a formal fashion education background. For us mortals, Abloh is a huge success story but I always wondered the opponents' opinions, not only about the Abloh but the bigger picture of this significant shift in fashion. Finding no credible source on the opponent's side made me wonder whether we are afraid of criticizing the authority in fashion, or this is what Abloh trying to destroy? If the answers are yes, then are we allowed to criticize Abloh's work?
Now, there is no doubt that fashion world is experiencing a metamorphosis: a transition from high quality tailoring to logo dominated streetwear. The question is, "Is this the new era or the victory of the superficial hype culture?" About Abloh's Da Vinci collection, he thinks himself as a renaissance artist just like Da Vinci. At the first sight, Abloh is for sure a new era renaissance artist when you consider his point of view: Rebirth of the fashion by destroying the stereotypes. However, after deeply thinking, I am not sure whether it is the renaissance or an act of demolition. A rebellion and a different kind of well thought minimalist approach stand out in all of his works from Off-White to IKEA Collection. A destruction that we are familiar from Vetements. 
The idea, aim and courage behind this rebellion is admiring. Undervaluing the strict rules of fashion can be understood because without taking the art and effort into account, at the end of the day, it is just fabrics and materials. By far, there is no problem of this approach. However, my problem is the absurdity of the execution! Designers want to mock with the popular culture phonies with extraordinary price tagged logo pasted products. At first, they probably think no one would buy it but when these products become incredibly popular, fashion houses release more and more which is conflicting. They want to mock with people that seek for the eternal popularity but, now the brand itself becomes the part of this hurricane. Brands keep creating new mockery elements for massive sales, far from the actual aim. Later on, other brands copy the initial ones and at the end of the day, we have a whole Instagram feed and magazines filled with basic t-shirts with similar logos pasted. 
As a break to my opinions, I should state that I actually started this article months ago when I first read about Virgil Abloh's collection for Louvre. I could not finish writing because, frankly, I wasn't sure about whether I should appreciate Abloh like everyone else or call Abloh down. The track of the article has changed multiple times but at the end, it revealed what I wanted to tell; especially, considering my own fears of resisting the authorities.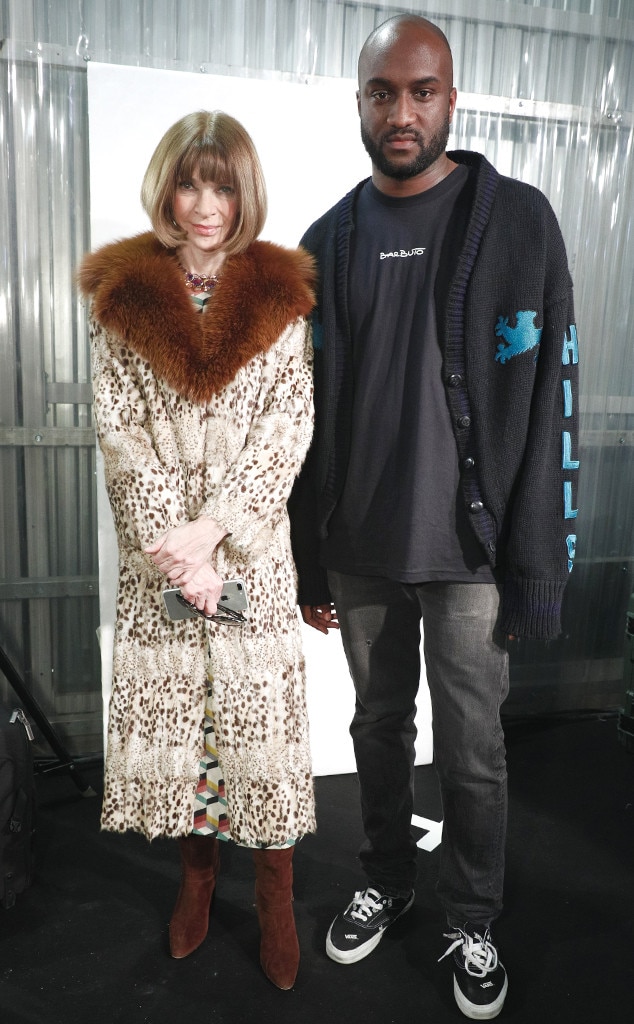 In today's massive information sharing environment, we tend to like what is approved by authorities by compromising from our own taste. It is not about the popularity but the fear. Fear to contradict with the fashion bibles. Now, months after the release of the collection, the collection is already archived and not many people even heard about it. It didn't become a legend, faded out quickly like many other capsule collections. Maybe we don't have to be worried. Maybe the fashion world has its own kind of natural selection system or just has a disposer to get rid of unoriginal work.  
---
Visuals:
www.berkeleygarb.com/blog-1/2018/4/25/listen-to-the-kids-bro
www.dezeen.com/2019/12/29/virgil-abloh-louvre-off-white-streetwear/
www.grailed.com/listings/7149662-alpha-industries-x-vetements-reversible-cropped-nylon-bomber-jacket
www.luisaviaroma.com/en-cz/p/off-white/men/down-jackets/70I-JRD024
www.eonline.com/photos/24653/off-white-s-virgil-abloh-s-star-studded-social-circle/850353